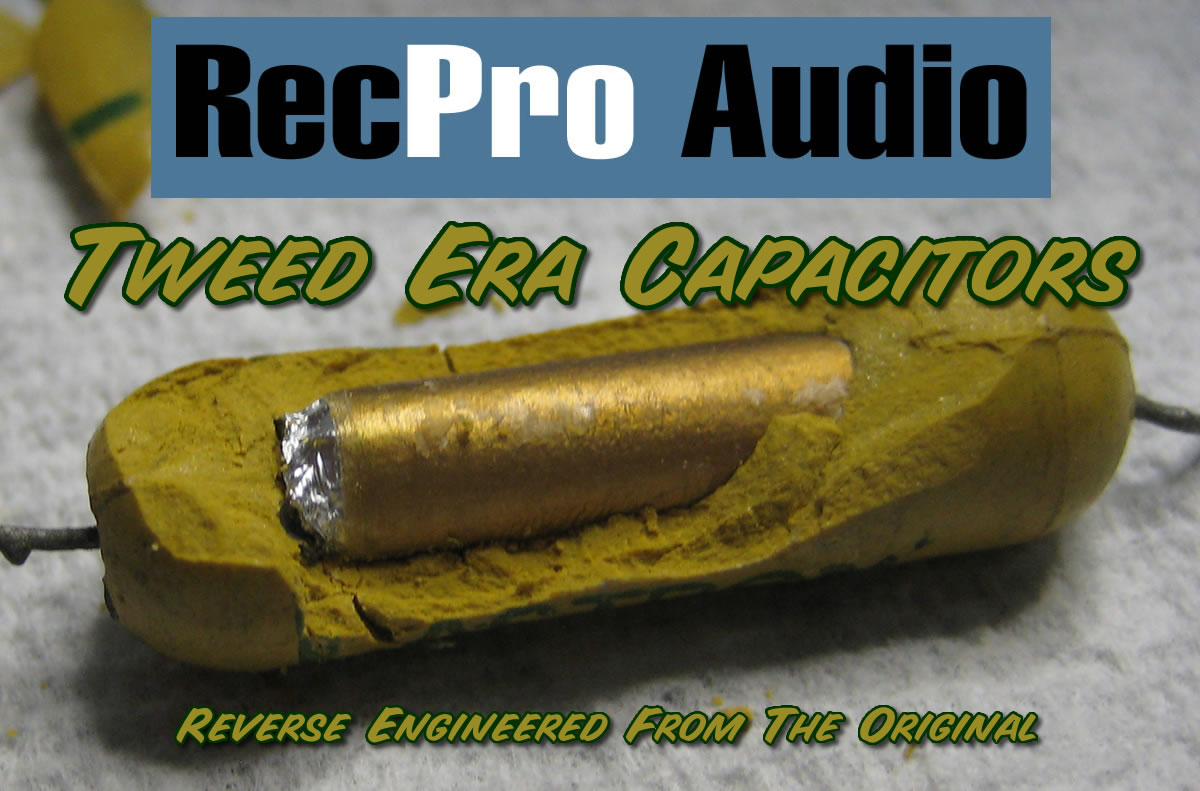 More info coming soon.
However, I'd like to begin now by explaining that the reason I will be offering these capacitors is because they don't currently exist - for if they did exist, I would simply buy them. Unfortunately, like much else I discover in the world of reproduction components, nobody is really coming clean regarding the accuracy of their capacitor recreations.
So, as with my A12Q/A10Q speaker reproductions and TD58OT output transformer recreation, etc., I spent a lot of time doing research. In the case of these capacitors, many weeks elapsed reading patents, dissecting old caps, talking to people, etc. - to better understand how these old caps were made, as well as the materials they were made with.
It is important to know that it is not possible to create *exact* clones of old caps today, because some of them were made with solutions containing PCBs, and the machinery no longer exists to support the construction techniques utilized. However, these are minor obstacles to overcome as they don't affect the performance of the cap (in the world of guitar amps) and modern alternatives exist.
BUT, what is of utmost importance are the materials used in the winding of the capacitor - which *are* available today.
This is everything.
Strangely, as mentioned above, although the same vintage materials are available, no one has, or currently is, offering Tweed-era caps with windings so composed.
Until now.
RecPro capacitors will be made with the right stuff, the very same winding materials used back in the late '50s.
Please note: The packaging of the windings will differ from the originals - yet, though they will look slightly different, they will be equal with regard to protection of the windings from temperature changes, humidity, shock, etc. - in other words, similarly heavy duty.
I asked myself the other day, how might I describe the tone and performance of these capacitors. To which I thought, it really doesn't matter what they sound like - because they are correct, made with the correct stuff. So, no matter how they sound - it will be truly vintage sound.
Naturally, I am sure they will sound and perform amazingly as I have been using NOS vintage caps for years and can attest to the fact that the right materials sound the best. Also, the samples I have received confirm that these caps, in production form, will be equally great.
So, if you are chasing period correct tone, it makes sense to use the right capacitors - because there is a difference.
Of course, there are likely "better" capacitors out there, but what I often run into when trying to recreate old components is that manufacturers try to improve upon the original item by using "superior" or more modern/convenient materials. Through doing so they destroy the accuracy of the item because it is no longer the same. What many people miss these days is that guitar amplifiers, especially vintage ones, are distortion machines - they are not meant to be squeaky clean tone generators or otherwise hi-fi.
In closing, if you seek the real tone and performance of late Tweed-era Fender amplifiers, please consider these capacitors. They are as close as you can get, today, to the originals - and they will only be available here. Please sign up for the newsletter at the bottom of this page to be informed of their availability later this fall.
Thank you.